A pair of Raleigh-based developers are planning a mixed-use condo project in the heart of downtown Durham, including a high-tech "jukebox-style" parking system to maximize space.
Last month, developers White Oak Properties and CityPlat filed plan for the Kress Condos, a new 6-story mixed-use building featuring around 26 condos, retail space and CityLift Parking system.
The site is situated on 0.15 acres at 162 Ramseur St. abutting the historic S.H. Kress Building, which dates to 1932 and also features a number of condos.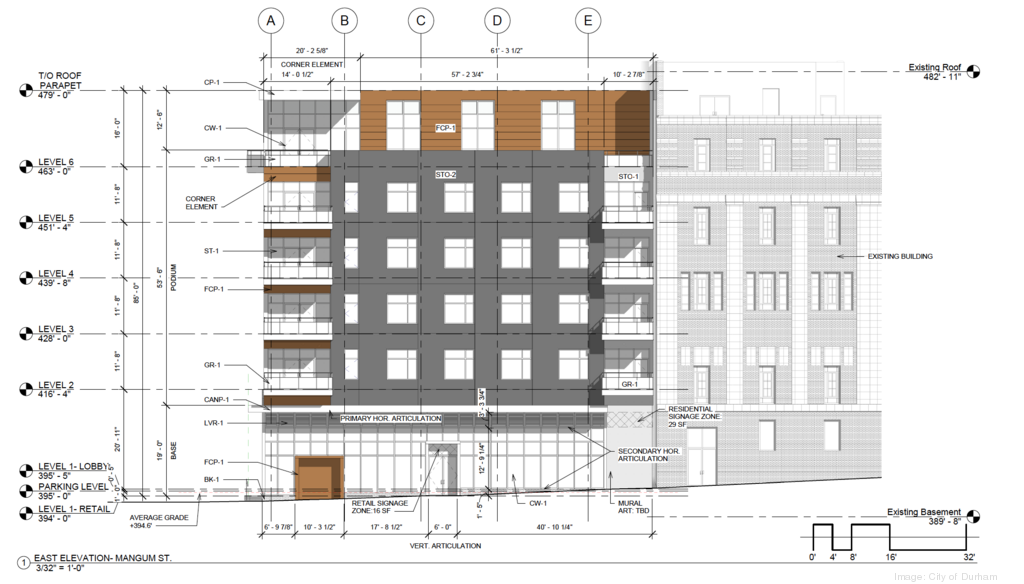 White Oak Properties founder Roland Gammon said the owner of the Kress building reached out to them about potentially buying a lot next to the building for a future project. The developers soon put the property under contract and began working on the plans for the project.
Current plans show the development would feature around 26 units across four stories and a top floor with fewer but larger units with access to outdoor spaces on the roof. The bottom floor would feature parking and retail space.
"We're spending the time to really create the amenities of the rooftop," Gammon said. "The project faces directly south with good light, good sun and it has the DPAC right there."
Parking at the project will feature a high tech CityLift deck, which fetches residents' cars when they swipe a key fob and enter the space's number.
"It works like a jukebox," Gammon said. "You go up with a key fob … push the buttons and it brings (the car) down. Max time 30 seconds."
The building will also feature a few thousand square feet of commercial space for retail tenants.
Pricing for the condo units has yet to be determined, and no tenants have yet signed onto the commercial space. Gammon said he hopes to start construction on the site by the end of the year and anticipates work to take about a year to complete.
Chicago-based Built Form is the architect with Center Studio Architecture serving as design architect. Coulter Jewell Thames is providing civil engineering and landscape architecture services. Stewart Inc. is the structural engineer.