The site of a historic brick factory in Durham has found new life as a retail and entertainment destination.
Raleigh real estate firm CityPlat has unveiled plans for Borden Brick, a new "mini entertainment complex" at the site of the former Borden Brick and Tile Co. factory in downtown Durham.
The project is situated at 704 and 706 Ramseur Road at the corner with Fayetteville Street and just off the Durham Freeway. CityPlat currently has the property under contract.
"We're totally excited for this project, and we're excited to bring a project that complements Durham," said Gaurav "G" Patel, senior advisor at CityPlat. "We're open and looking to evaluate anyone looking to be in this space."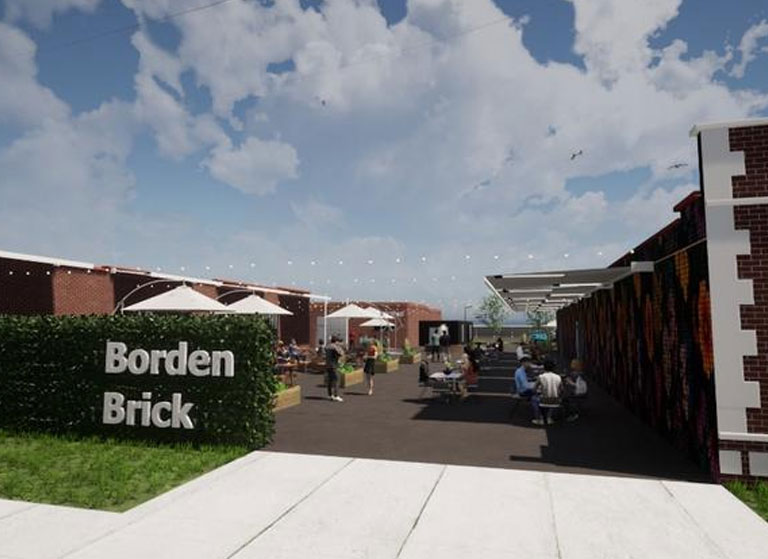 "Because of the way Durham is growing there, it's the perfect type of project and piece of property for us," said Vincenzo Verdino, CityPlat principal. "If we look in 10 years and see where the growth is going to be happening – this is a corridor with a lot of potential"
The company announced the project with a virtual video tour posted on LinkedIn. Financial details are yet to be finalized.
No tenants have been announced for the space, but Patel said that the project plans to feature a taqueria, coffee shop, ice cream parlor and others. There will also be space available for a distillery, pizzeria or another "eclectic restaurant concept."
CityPlat plans to begin construction on the project in the first quarter of next year and complete the project by the summer.
The project is also in an opportunity zone, something CityPlat has been using to target and optimize financing for sites around the Triangle. It also locks in their ownership and investment in the land for the next 10 years to maximize the utility of the program.
The company launched a similar OZ retail redevelopment project in Garner last year, and Verdino said the company is keeping an eye out for future sites as well.
"We've been putting offers on a number of properties in opportunity zones," he said. "We're huge proponents in what they represent and – no pun intended – the opportunity they provide."
The Borden Brick and Tile site dates to the early 20th century when it produced bricks to iconic Durham companies such as Liggett and Myers and The American Tobacco Company.
The Borden family had made a name for themselves operating brick manufacturing operations in Goldsboro since 1911 before bringing the company to Durham in 1929. Cherokee Sanford Brick bought the company in 1989.