Hillsborough Street staple Mitch's Tavern, which has been closed since the pandemic began, will reopen under new management in the new year. Mitch Hazouri will continue to be the principal owner, but a management group will be coming in to operate the restaurant.
The 47-year-old tavern is located at 2426 Hillsborough St., directly across from North Carolina State University's main campus. The group running MoJoe's Burger Joint on Glenwood Avenue, among other restaurants, is set to take over running the tavern, according to Pat Moore with Raleigh real estate firm CityPlat.
The deal is not yet finalized, though Moore said that as of now the MoJoe's group is planning to step in with a reopening potentially as early as February. Along with the tavern, the group will also be gaining an empty downstairs bar area.
"They're a very small group of restauranteurs that are going to come in and help out, take over management and really get it back to its heyday," Moore said.
The building has been owned by the Gary family since 1961, and the family will continue managing the property. Moore said he was brought on as an adviser for the owners – CityPlat has been very active in the Hillsborough Street corridor. Joseph N. Gary III declined to comment on the new plans for Mitch's Tavern.
Mitch's has been a favorite for Wolfpack fans and Raleigh residents for decades and was featured in the 1988 film "Bull Durham." In the scene, the Bulls baseball players come to hang out at Mitch's and eventually get into a fight.
The entrance to Mitch's is on Hillsborough Street, with stairs leading up to the restaurant. Directly underneath Mitch's on the street level is Global Village Organic Coffee. To the right of the Mitch's door is another door leading to space below the tavern.
Down those steps sits an unused bar area, also operated by Hazouri. The space has never officially been home to anything, but it has a full kitchen, restrooms and seating for 67, Hazouri said. The management company will have the option to turn the space into a business.
"It would be a great bar, but it depends on what the operator decides to do with it," Moore said. "It could be an event space it could be anything. The plan is to utilize it in some form or fashion."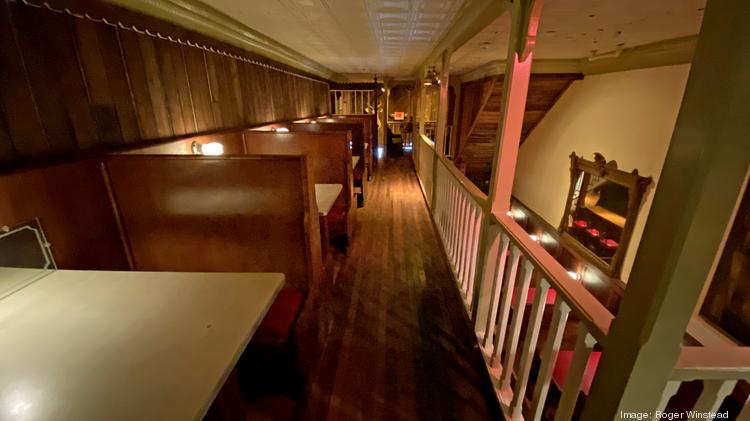 Besides minor renovations to the inside, no major changes are planned for Mitch's Tavern, Moore said.
"A lot of people really miss the old Mitch's, so that's what we're trying to bring back is the cool college bar that it used to be," he said. "It'll be a nice uplift for the space."
Mitch's Tavern has been closed almost the entirety of the Covid-19 pandemic. The restaurant offered limited takeout and dining options for a brief time in mid-2020, according to its Facebook page.
"Mitch's is an institution on Hillsborough Street. It's been a destination for generations of N.C. State students, alumni, faculty and staff," said Jeff Murison, president and CEO of the Hillsborough Street Community Service Corporation. "It's an establishment that I think has provided wonderful memories for just generations of people in our community."