Fifteen years ago, the Rocky Mount newspaper reported about a group of investors from the Triangle who were planning to rehabilitate a downtown apartment complex.
One of the investors in the story talked about the painting, repairs and other work to be done. His name was Nikita Zhitov.
There were a couple of remarkable things about Zhitov. He was 21. And just seven years earlier, he had arrived here from Siberia.
Today, Zhitov runs a growing commercial real estate business, CityPlat, in his own building in downtown Raleigh, along with partners operating a luxury residential brokerage.  In the past five years, he and his colleagues have developed more than $90 million worth of projects — rehabs, new apartments, subdivisions — mostly in the Triangle.
He is 36 and has spent half his life in real estate. As a teenager, he discovered a passion for it. It didn't matter when he started, that he was a recent immigrant and broke. "Real estate is a very powerful industry," he says. "Once you put the wheels of real estate in motion, it's really going to change your life."
Winning the lottery
This story starts in Novosibirsk, the largest city in Siberia and one of Russia's leading scientific research centers. Zhitov's father, an entrepreneur, had been to the U.S. several times on business. Zhitov's older sister came to the U.S. on a high school exchange program and was attending New York University. In 1998, Russia experienced a financial crisis that hammered the ruble; the family could no longer afford NYU and she came home. But around that time, Zhitov's parents applied for the green card lottery.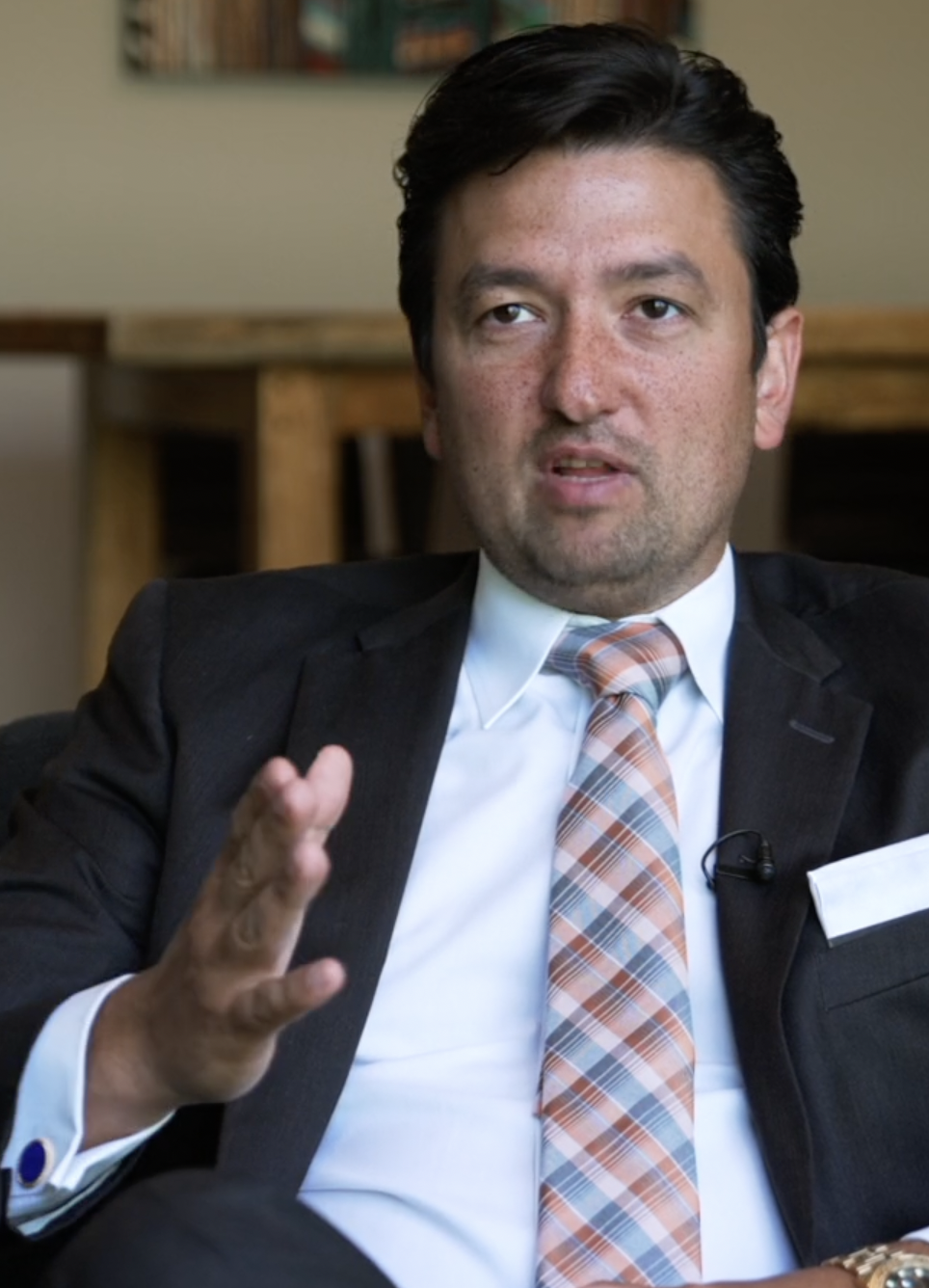 "A year goes by, we get a notice in the mail that both my parents won their green cards, independent of each other," recalls Zhitov.  It was December 1999. "I guess it was always like a dream to come to America," he recalls. "You hear about America, land of opportunity."
In May 2000, they flew into New York, rented a van and drove to Apex, in Wake County. Family friends had come here three years earlier from Novosibirsk. In his junior year, he enrolled at the North Carolina School of Science and Math in Durham.
The school every year had a special session that let students choose from a variety of courses or design a project. As a senior, he designed his own independent study, shadowing someone in the real estate business and writing a report.
An alumnus connected Zhitov with Ron Pate, a real estate investor who worked mostly in the Rocky Mount market.
The vision
On his second day following Pate around, he watched him effectively buy and sell, in two separate transactions on the same day, a small apartment building for a $50,000 profit; Not only that, he was using very little of his own money in the process.
"So, I only need $500 to tie something up," recalls Zhitov, "and I don't need to have this $200,000 to buy it? I can just find somebody who wants it, and I can sell my contract to that person? I think I can duplicate what you just did. So that gave me a vision that this business is accessible to somebody like myself."
In August 2004, he started his first semester at UNC Chapel Hill, on a full scholarship. But he was also looking for deals.  He made $48,000 on an apartment sale in Sharpsburg, a little town south of Rocky Mount. He made another deal, with his folks, that he would take a year off from school, and if he made $1 million by the following December, he wouldn't have to go back.
This did not thrill his college-educated parents. And he didn't make $1 million that first year, and so he went back for a semester. But he told them "everything I see here tells me I'm going to get there."
He left school. By 2006, he was working with various partners in Rocky Mount, Raleigh and Fayetteville.  He built up a $20 million real estate portfolio by the time he was 23.
Some setbacks
Zhitov is candid about his journey. In his early 20s, he was making a lot of money and spending a lot, on a hunting lodge in Texas, for example, "that I only visited twice."  He bought a luxury sports car.  He diversified into side investments, some of which did not turn out well.
"It is not a good idea to get distracted," he says. He ended up giving his properties to his partners, "losing everything."
"I was back to where I started. It humbled me. I had to start from scratch."  But he was still in his mid-20s, and he knew the brokerage business, selling other folks' buildings. "I couldn't buy because nobody would lend me money. At least I could use my knowledge to help other people make money."
He spent much of the next decade working with Blue Sky Services, a diversified Raleigh commercial construction and real estate firm run by David Medvetz. Zhitov was getting re-established, making connections, doing projects.
"I realized that the reality is, after all my wounds were healed, the only way to build wealth was by owning property," he says.
Raleigh's Hillsborough Street, past North Carolina State out to Meredith College, became a particular focus.  The street was a hodgepodge of student-oriented retail along with old residential and industrial buildings.
"Hillsborough Street is one of my favorite streets because it was overlooked for many years," says Zhitov.
"When we have these young kids who come work for us, I tell them I'd rather you know a two-block by three-block area of the city like the back of your hand, every single parcel — when it's sold, what its zoning is, what's the height, who owned it, what their dog's name is — than kind of know the entire county.  I got to know Hillsborough. And I think we pretty much tried to buy everything that was possible we could get our hands on over the years."
Many properties that weren't owned by N.C. State had been owned by families "for 100 years," as Zhitov put it, and the conventional wisdom was that they wouldn't sell. But he was persistent. "The only way to get to yes is to ask the question. If you don't ask the question, the answer is going to be, default, no."
All along the Hillsborough corridor, he and CityPlat have been acquiring and developing, apartments and retail, such as Hillsborough Centre, a retail project next to the Target across from campus.  A previous attempt called Hillsborough Lofts, ran into construction delays and ended in bankruptcy.
"Every developer in town tried to buy it," says Zhitov. "Nobody could make it work. [I] kept going back to the bank.  I said every time I sign my name to a piece of paper it closes, 100 out of a hundred times.  I've never signed my name to a contract that hasn't closed." CityPlat is partnering with Modalia Capital, a Maryland investor that it is working with on several other Raleigh projects.
An acquisition strategy
CityPlat has also been building in Garner and Durham, where it has the Borden Brick retail and entertainment development.
CityPlat was formed three years ago and now has around 20 employees, about half of them brokers.  Two principals, Vincenzo Verdino and Pat Moore, came with Zhitov from Blue Sky. They are into a little of everything: Residential, student housing, self-storage, small industrial. "I don't care what shape it comes in.  I'll do any type of real estate transaction."  He acknowledges that some folks have called him "a squirrel."
"Because I'm like, here, there, everywhere, in all different types of projects.  I'm trying to be less like squirrels, and we're trying to be more focused now."  For example, on industrial warehouse buildings and grocery-anchored shopping centers. CityPlat wants to grow its acquisitions at a rate of $250 million a year, he says.
Hitting the books
The guy who dropped out of college has a passion to learn. Last year, he got his pilot's license. This year, his goal is to play the piano. He reads 100 books a year, on average. (In fact, he has written a book on real estate. Chapter Two: Do not overlook the cash flow from parking, laundry, vending and ATMs.)
Every Tuesday at CityPlat, at a weekly staff meeting in the conference room, his folks discuss books they are reading. It is required. "We keep a running tab of how many books we've read this year." He wants a business filled with lifelong learners.
"People who do not read books," says Zhitov, "are not different from people who cannot read books."